Mussels with Tomatoes, Spinach and Pasta
READY TO SERVE IN 25 MINUTES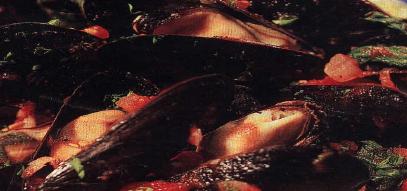 Fresh mussels cooked in butter and wine are the stars of this easy pasta meal.
First the ingredients:
8oz. your choice of pasta
2 Tbs. butter or margarine
1 medium onion, chopped, about 1 cup
2 cloves garlic, minced
1/2 tsp. salt
1/4 tsp. pepper
1/4 tsp. crushed red pepper flakes
1/4 cup wine
1 can (35oz.)plum tomatoes in tomato purée, drained and chopped, 1/2 cup purée reserved
1 Tbs. tomato paste (you can freeze the rest for another day in Saran wrap)
2lbs. mussels, debearded
8oz. fresh spinach or arugula, trimmed, about 4 cups loosely packed
2 Tbs. chopped fresh parsley
Cook the pasta according to package directions: drain and set aside. In pot melt butter over medium-high heat. Add next 5 ingredients. Cook, stirring, until onion softens, 3 minutes. Stir in wine; cook 1 minute. Stir in tomatoes with reserved purée and tomato paste. Increase heat to high; bring to a boil. Add mussels; cover. Cook until mussels open, 5 minutes; transfer to large bowl and keep warm. Discard any mussels that don't open. Stir in spinach or arugula into tomato mixture; heat until wilted. In serving bowl combine pasta with mussels and tomato mixture; sprinkle with parsley.
Makes 4 servings unless your really hungry with only 433 calories.