Welcome Aboard!!
MISS ATLANTIC CITY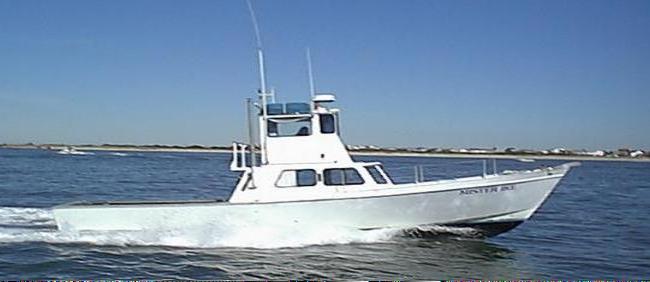 This 45' Custom Built Aluminum Sport Fishing Boat is Certified by the United States Coast Guard to carry up to 44 passengers and is powered by Detroit 8-92 Turbo Diesel. The Miss Atlantic City is a popular boat among fisherman because of her speed, which allows her to get to some of the more offshore fishing sites. Her fantastic crew are always willing to assist you with any needs you may have from baiting your hooks to helping you reel it in!

The roomy lower cabin is insulated allowing for quiet peaceful sleep on any one of the 4 bunks provided. The lower & main cabin provide plenty of storage space with cushioned seating in the main cabin along both sides. The large main cabin opens to the spacious aft deck which is 18' long by 15' wide with bench seating on both sides allowing everyone to fish together as a group and also provides gear storage underneath your seat.

. The boat is equipped with a marine head located on the main deck (CLEANEST IN SOUTH JERSEY).

For availability and reservations call:
ATLANTIC CITY FISHING CENTER
609-926-5353
Boats are located at 455 N. Maryland Avenue Atlantic City, NJ 08401
Please send all mail and paper correspondence to:
Office Mailing Address: Miss Atlantic City, Inc. 510 Ridgewood Drive, Northfield, NJ 08225
E-Mail: accharter@aol.com

Table of Contents